In a world forever changed by unprecedented events, it's time for a system reboot and reconnection with others. Please join us for the 15th Annual HDI-WCNY Leadership Conference, "Ctrl Alt + Delete/Rebooting Change in 2024," We invite you to embark on an interactive, transformative journey to navigate the new landscape of business with resilience, innovation, and a fresh perspective. Join us to understand the impact of change, explore effective strategies, and create a future where you lead the change, not just follow it.
Why Attend?
Explore the Impact of Change with our amazing line of speakers, Deborah Monroe, Melissa Mannix, Halyma Blanda, Quinn Karley, Maggie Rivera and Erin Garvin. Gain insights into how change affects individuals and organizations, and learn how to harness its potential when you apply it to your lives and within your teams.

Mindfulness in Change: Discover the power of mindfulness in proposing, leading, and navigating change. Learn to approach change from a place of understanding, empathy, and wisdom.

Community Building: Network and connect with like-minded individuals within the vibrant Rochester community. Forge new friendships, share experiences, and build lasting connections.

Strategic Takeaways: Leave with a concrete strategy to lead the change you've been envisioning or to navigate the change you are currently experiencing in your organization and meet back up with all of us virtually in March 2024 to check-in with each other and the speakers!
Please join us for Ctrl Alt + Delete/Rebooting Change in 2024: 15th Annual HDI-WCNY Leadership Conference on Friday December 15, 2024.
Paychex Auditorium 1175 John St, West Henrietta, NY 14586

Doors open at 8:30 a.m.

Conference 9:00 a.m. - 4:30p.m.

Networking Happy Hour at LovinCup 5:00 pm @ 300 Park Point Dr, Rochester, NY 14623

Virtual Access Available - We recommend in person if possible
Please register by December 5, 2023 to help us plan accordingly for lunch, refreshments and good old swag by securing your spot early! Don't miss this opportunity to reboot your perspective on change and leadership for 2024!
We look forward to seeing you there!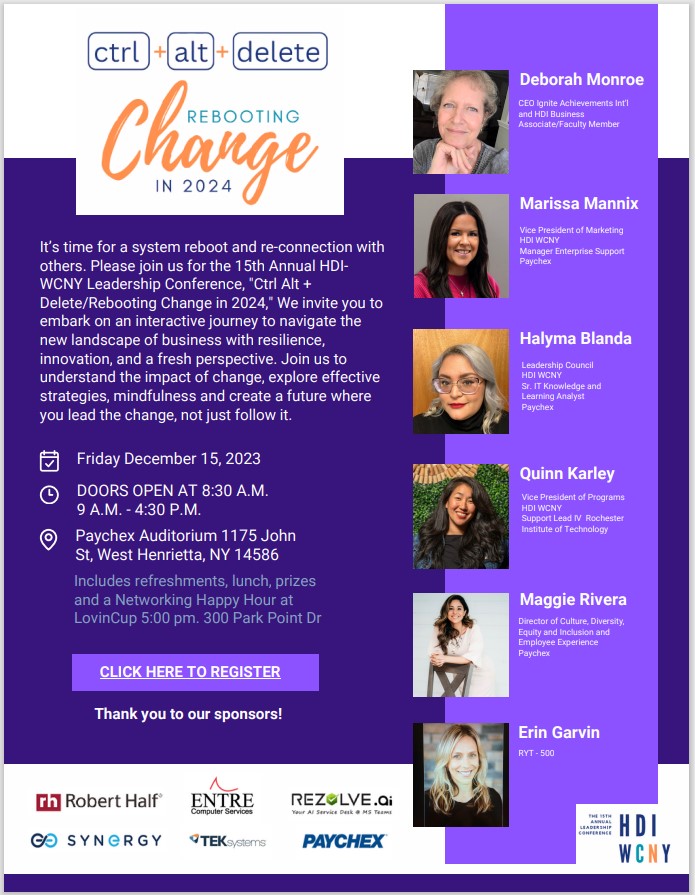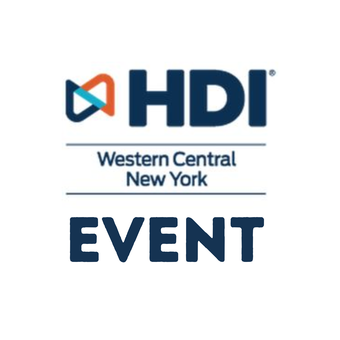 Paychex Auditorium 1175 John St, West Henrietta, NY 14586